When you visit our website, isardSAT.cat (hereinafter, the "Site") your computer or mobile device ask you for permission to save this file on your computer or mobile device and gain access to information. Information collected through cookies may include the date and time of the visit and how you use our website. Cookies and similar technologies are very small text documents or pieces of code that often contain a unique identification code.
We use cookies on the Site to record your user preferences and track the pages you visit. Cookies also help us understand how the Site is being used and how we can improve it. We use the following type of cookies:
Necessary cookies: These cookies are necessary for the website to function properly. Some of the following actions can be performed by using these cookies.

Performance cookies: These cookies are used to gather statistical information about the use of our Site, they are also called analytics cookies. We use this data for performance and website optimization.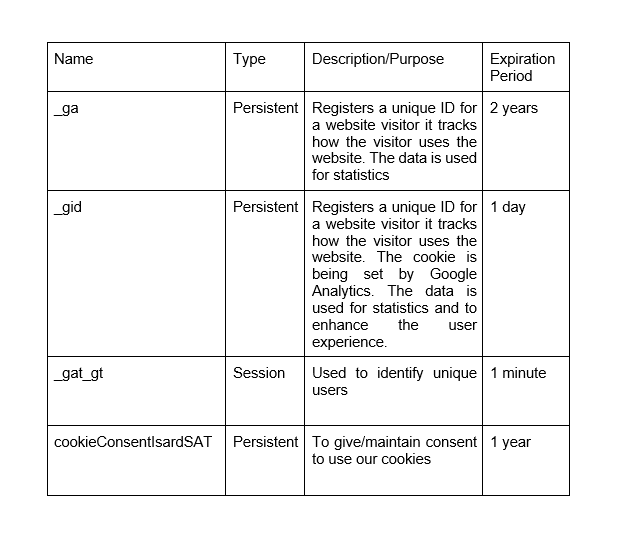 You can find more information about Google Analytics on this website:
https://developers.google.com/analytics/devguides/collection/analyticsjs/cookie-
You can choose to opt out of all but the necessary cookies. To do it, you can change the settings of the browser to ensure that cookies will be blocked. For more information on how to control cookies, check your browser or device's settings for how you can control or reject cookies, or visit the following links:
However, if you block the cookies, it is possible that you will not be able to enjoy all the technical features our website has to offer, and it may negatively affect your user experience so please be aware that such action could affect the availability and functionality of the Site.
Changes to our Cookies and Cookies Policy
All updates and future changes we make to our Cookies and Cookies Policy will be posted on this Cookies Notice.
If you have questions or comments about this Cookie Policy, please contact us at:
isardSAT, S.L.
Technology Park A-219
8-14 Marie Curie Street
08042, Barcelona
data@isardSAT.cat
Phone: +34 933505508