CryoSat+ Antarctic Ocean
Towards a better understanding of the Antarctic climate system and ocean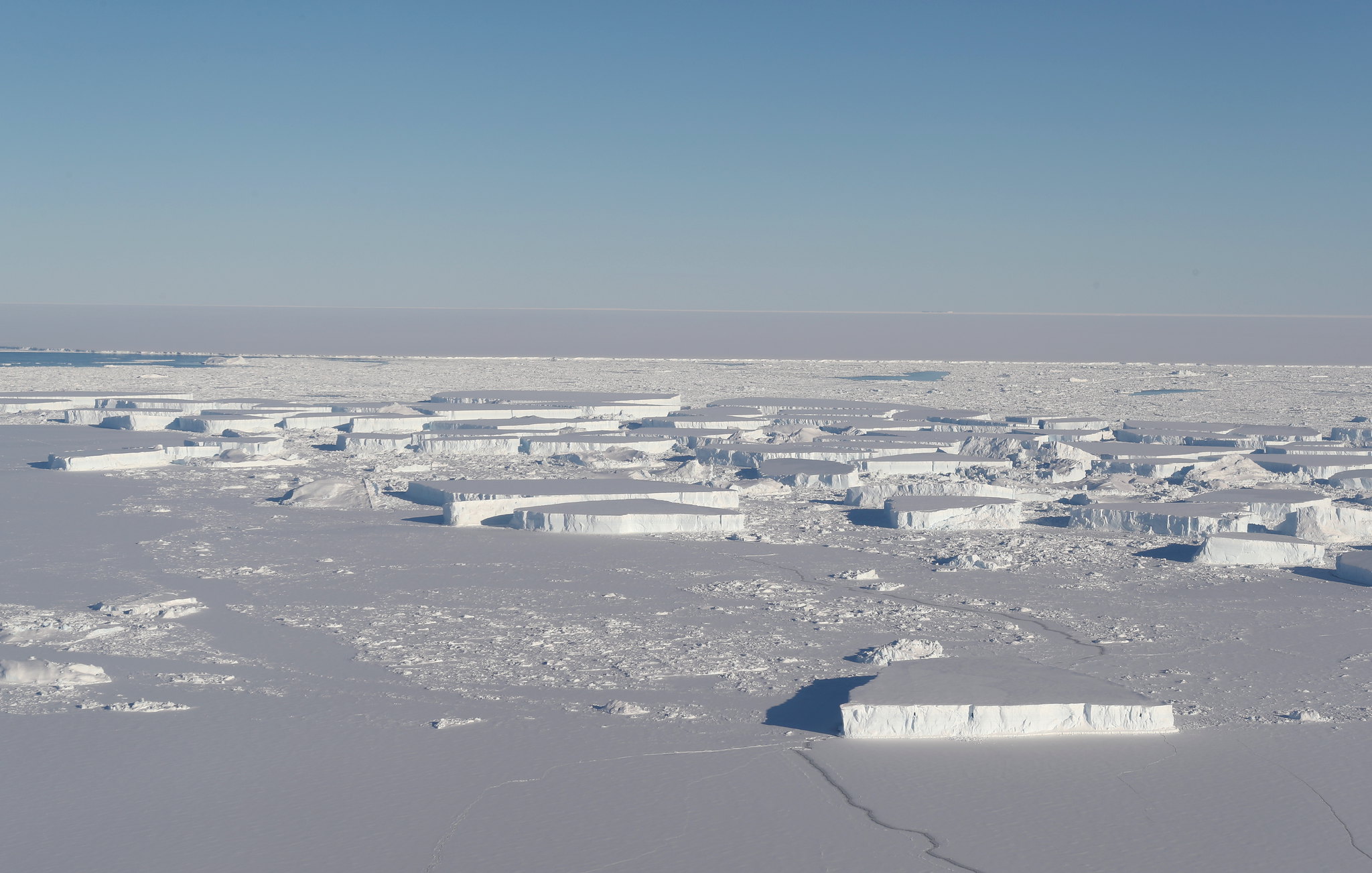 Image: Large tabular icebergs located between Antarctica's Larsen C ice shelf and the A-68 ice island, which calved off of the Larsen C last year, as seen on a NASA Operation IceBridge mission on Oct. 16, 2018. (Image by NASA/Jefferson Beck, available under Public License)
​
Over the last years, CryoSat-2 has provided several products, such as pan-Arctic sea ice thickness maps, dynamic topography and geostrophic currents, but similar products covering Antarctica have had a lower level of maturity since specific challenges in the processing of the radar signal result from the complex surface characteristics of Southern Hemisphere's sea ice and ocean fields.
The CryoSat+ Antarctica Ocean project objective is to address these issues by developing new approaches and algorithms that could be implemented in ESA's CryoSat-2 ground segment processor to produce state of the art sea ice and ocean products that will be validated by airborne and in-situ measurements and result in scientific progress for the understanding of the Antarctic climate system and ocean circulation.
isardSAT will participate in the Along Track product development and validation, and in the gridded product development and validation. isardSAT will also develop two lead detection methods, one using Fully Focussed processing and the other using SARIn interferometry, as well as two retracker methods, one for sea ice and the other for ocean retrievals.
​
Go to site
Team
UCL-MSSL, UCL-CPOM, CLS, DTU, isardSAT, LEGOS, Shepherd Space
Duration
2019-2021
Tags
algorithm development, altimetry, remote sensing, snow / ice, geophysical validation, climate change